Usage Tips
PhoneFavs Basics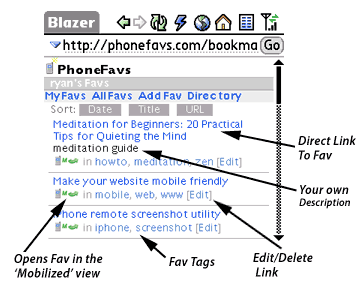 Usage Tips
Key in pfavs.com for quick access.
PhoneFavs can import your Firefox, Internet Explorer and del.ico.us Bookmarks.
Make PhoneFavs the default homepage on your Smartphone or PDA.
The PhoneFavs browser buttons and mobile bookmarklets are key!
[] this icon will open the link in a stripped down, mobile optimized view.
Navigate PhoneFavs with your phone's number keypad (on select supported devices).

Hit the "0" key at any time to jump to the homepage.
Numbers 1-9 will open the corresponding Favs on your bookmark list.

Palm OS users - download the PhoneFavs.prc application for quick access.
Usage Ideas
Save articles and links at work to read on your phone when you are less busy.
Got to run? 'PhoneFav it' and resume surfing on the go.
Keep a access anywhere list of bookmarks
Share your bookmarks or a collection of links with with friends, colleagues or classmates.
PhoneFavs supports most of the del.icio.us API. Many tools made for that system can be modified to work with PhoneFavs instead. Interested end users and developers are encouraged to contact us for more details.